If you see this page you have probably purchased something from Graph Tech recently and got the flyer
with 10% off for your new RAT:O Machine Heads set?
Congratulations!
Apply your discount code at the checkout. *
If you are not yet familiar with the science behind RATIO please feel welcomed to look through this text below.
You will find links to the product collections below as well.
*
This discount code can't combine with other automatic discounts (ecommerce platform rules). Customers won't be able to enter a code if an automatic discount is already applied at checkout.
This is a limited time promotion - flyers are distributed starting September 2021 and till available.
Offer valid on online purchases made on www.graphtech.com. To redeem online promotion code stated on the flyer it must be entered at checkout and is valid for one-time use only. Sales tax, shipping & handling do not qualify for discount. This offer is not redeemable for cash or gift cards, nor is it valid toward previous purchases. Offer may not be combined with any other coupons, discounts, offers, or promotions. Void if altered, copied, transferred, auctioned or sold. Offer valid on in-stock items only. No rain checks issued. Offer not valid for prior purchases. Other restrictions may apply.

RATIO Machine Heads are a high performance transmission for your guitar. The core tension of every string is different, each requiring a unique gear ratio to deliver tuning perfection. RATIO's patented gear technology delivers premium tuning performance every time by giving each string its own specific tuning gear.
THE SIMPLE GENIUS BEHIND RATIO® SYNCHRONIZED MACHINE HEADS
We've tuned the gear ratios to each string position so that every string responds the same to any tuning adjustment. You get fine tuning on the thicker core strings and coarser tuning on the thinner core; anywhere from 12:1 to 39:1 gear ratio. With Ratio®, one turn is about one tone change on all strings, making tuning, retuning and open tunings easier, quicker and more intuitive.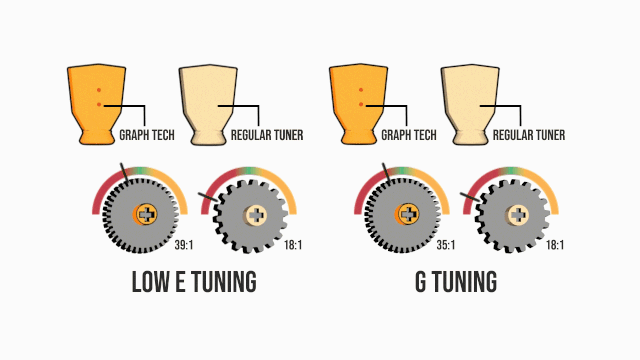 InvisoMatch Mounting Plates for RATIO Tuned Machine Heads are the easiest approach to installing Ratio Tuned Machine Heads on your guitar. Simply select the installation plate design that matches the screw/pin hole location of your factory installed machine heads, then follow the three step process described below. You'll be up and running within minutes, perfectly installed and aligned. Stay classy you axe master.

PREDICTABLE, PRECISE TUNING, RETUNING AND OPEN TUNINGS.
Ratio® tuning feels natural. You don't have to think about which string you are tuning because they all feel and respond the same. No more overshooting the Low E or plain G. No more twisting away on the High E or D string. Open tunings have never been easier. String gauges such as light top, heavy bottom are no problem with Ratio®; they still do the same precision tuning..
NOT JUST ANOTHER MACHINE HEAD.
Ratio is more than just another entry into the machine head market. Instead, Ratio has reinvented how machine heads function with the musician.
ONCE YOU EXPERIENCE OUR RATIO TUNED MACHINE HEADS, YOU WON'T GO BACK TO REGULAR MACHINE HEADS
Simply the best tuning system for stringed instruments. An unique gear RATIO for each string


"They are on my personal guitar.
They're great, I can't believe no one had
come up with this idea until now! (Ratio)
Makes tuning effortless and easier!"
JAMES VALENTINE
MAROON 5

"Having been a user of Graph tech products for
years, I'm blown away by the Ratio Tuning Machines. They've outdone themselves this time and these things are going on EVERY guitar I own."
JASEN RAUCH
BREAKIN BENJAMIN


"I didn't know tuning my bass
could be a recognizably better
experience. I love the Ratios,
and they're so smooth!"
NICOLE ROW
PANIC! AT THE DISCO

"I am pleased to announce that my guitars are now have Ratio locking Tuners. The Ratio locking Tuners are fantastic, and being out of tune is a thing of the past thanks to these Tuners.
MICK BOX
URIAH HEEP